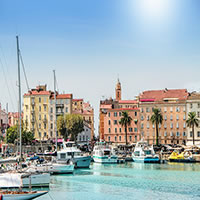 Ajaccio, the capital of Corsica and birthplace of Napoleon, is a bustling city rich in history with a beautiful natural setting.


Just around the tip of Corsica`s Cap du Corse lies Bastia, the second-largest town on the island of Corsica and the biggest port. Walk along the streets of Bastia and soak in the very essence of its people and culture!


Perched on limestone cliffs above the Mediterranean, this ancient fortress town is one of Corsica`s most captivating places. The bustling harbor town is a delightful maze of cobblestone streets lined with old stone houses, outdoor cafes and shops.


With a picturesque marina and miles of stunning beaches along the bay, this is one of the most popular holiday destinations on the island of Corsica. The lively town offers visitors everything from beautiful beaches and fascinating history, to delicious food and easy access to some of the highlights of this region.


Named after the islets that blush a deep color red in the sunset, this laid back seaside town with its central square, lively cafés and large beaches in close proximity, makes an ideal spot for a fabulous holiday.


Bustling with bars and restaurants boasting panoramic views across the valley, mountains and harbor, and white sand beaches contrasting with the turquoise Mediterranean Sea, this is the perfect spot for spending your vacation in a relaxed, chic atmosphere.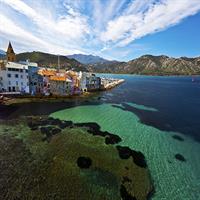 If you are looking for a quieter, more traditional side of Corsica, then this is the area for you with beautiful scenery, quiet beaches and a relaxed atmosphere.


This area remains an insider`s secret - a charming place with natural scenery that is little explored and much less developed.


This area is dramatically beautiful, characterized by the clear emerald waters of the Mediterranean and rugged, isolated beaches.


From the majestic landscapes of the island`s interior, to white-sand beaches and uninhabited islands just off the coast, this is a region of spectacular natural beauty.


If you are looking for a more intimate experience of the island, the mid-mountain back country and beautiful family-friendly beaches of the east offer a less crowded experience of Corsica.


Lakes, natural pools, small villages and huge forests offer stunning scenery and make this region of Corsica a region not to be missed.


Wild and mountainous yet also quite sophisticated, this is the perfect region for a relaxing beach holiday or for active outdoor adventures.