WHY BELGRADE?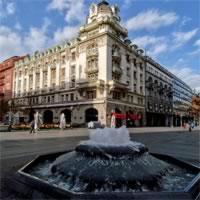 One of Europe`s oldest cities, Belgrade`s wider city area was the birthplace of the largest prehistoric culture of Europe, the Vinca culture. Nowadays, it is the central economic hub of Serbia, and the capital of Serbian culture, education and science. The city`s main attractions are: Skadarlija, the National Museum and adjacent National Theatre, Zemun, Terazije, Students` Square, the Kalemegdan Fortress, Prince Michael Street, the Parliament, the Temple of Saint Sava, and the Old Palace. The hilltop Avala Monument offers views over the city. Josip Broz Tito`s mausoleum, called Kuæa Cveæa (The House of Flowers), and the nearby Topèider park are also popular among visitors.

Best Belgrade Vacation Packages:

More details

More details

More details
Feedback from our travelers
12 Reviews
Traveled on: 3/29/2019 12:00:00 AM
Traveled on: 10/13/2018 12:00:00 AM
Traveled on: 8/4/2018 12:00:00 AM

Need booking assistance?
We're glad to help:
Call Us 24 hours a day
7 days a week!
1-800-430-0484