Map of Point of interest


These packages are perennial favorites. They save us valuable research time and give us a sense of what travelers like us enjoyed in the past.


Unbelievable landscapes, amazing hill towns, charming seaside Villages, gorgeous lakes and spectacular mountains!


If you haven't done it already, you have to travel by train in Europe. It should even be on your 'things-to-do-before-I-die' list!


Experience a different side of Europe: spend some time in your favorite European City and then a couple of days relaxing in one of Europe's most popular beach destinations.
WHY GENOA?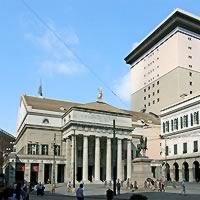 Nestled in the center of the Italian Riviera, lies Genoa, stretching for several miles from the hills to the coast, it lives up to its reputation as the cultural capital of Europe, a title won in 2004 due to its theaters, museums, restaurants, cafes, shopping centers and Europe's largest aquarium. Genoa's historic center is said to be the largest medieval quarter in Europe and has a wealth of churches, palaces, and museums. During the time of the Romans, it served as an important maritime center for the empire and, during the period of the Renaissance, was known as one of the richest cities of Renaissance Europe. An old port city, Genoa is a mixture of the old and the new, the elegant and the squalid, the historic and the modern. Remnants of the Roman Empire are still available within the town's medieval walls right next to the tenement homes. It is the biggest commercial port of Italy and the birthplace of Christopher Columbus.

Best Genoa Vacation Packages:

More details

More details
Feedback from our travelers
5 Reviews
Traveled on: 7/25/2018 12:00:00 AM
Traveled on: 10/18/2017 12:00:00 AM
Traveled on: 10/13/2017 12:00:00 AM

Need booking assistance?
We're glad to help:
Call Us 7 days a week
from 8AM to Midnight ET
1-800-430-0484