AIX-EN-PROVENCE - NEIGHBORHOODS
Old Town
The Old Town area is a great place to wander around, stopping off to sightsee or to enjoy a coffee and watch the world go by. The area is filled with shady squares, elegant town houses, terrace cafes, restaurants, shopping, and lively open-air markets. This is the oldest neighborhood in Aix`s, built on the site of the original Roman city, which is mostly comprised of Aix`s most impressive historic buildings and churches, including Hôtel de Ville, Ancienne Halle aux Grains, Cathédrale St. Sauveur and Palais de Justice.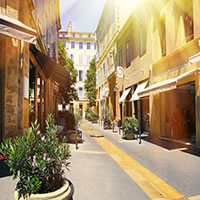 Villeneuve District
The Villeneuve district is the `New Town` area located east of the Palais de Justice. This was the name given to the district when it was modernized back in the 16th-century. Today, the area is an elegant neighborhood with rows of beautiful town houses.
Mazarin District
The elegant Mazarin district, named after the arch bishop who founded it, is located south of the Cours Mirabeau. The area was built in the 17th-century with grid pattern streets filled with town houses from that period. Mazarin represents a third of the total area of Aix and distinguishes itself from the rest of the old city by its check pattern map. Originally, this was the neighborhood where the middle class and wealthier inhabitants of Aix en Provence lived. Today, it is also a good place to window shop in some of Aix`s trendy boutiques. The district`s heart is Place des Quatre-Dauphins and is organized on two principal streets: rue Cardinale and rue du Quatre Septembre.
Cours Mirabeau District
The wide street is one of the busiest and most frequented in Aix en Provence. It remains the best part of town to be seen and a must-do activity for all visitors in Aix. Le Cours Mirabeau is a tunnel of plane trees punctuated with fountains and lined with cafes, terraces and elegant private mansions with wrought-iron balconies dating back from the 17th and 18th centuries. The neighborhood is also the perfect place to relax and enjoy a cup of coffee at one of the many open-air cafes.
Northern District
The district to the north of Aix is generally seen as Cézanne country and is particularly popular with visitors who are interested in the artist`s work. Located here are Cézanne`s home and workshop.The countryside surrounding Aix en Provence, particularly in the north, provided the inspiration for many of his paintings.