WHY HALMSTAD?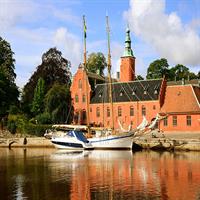 Once a grand walled town and a major stronghold of Danish power, Halmstad is nowadays the golf capital of Sweden. Halmstad lies in the middle of the wonderful west coast, in one of Sweden`s most expansive regions. Along with the adjacent Ringenas and Frosakull beaches, this is one of the longest beaches in Scandinavia. During the summer months Halmstad transforms into a pulsating Riviera. There are several open air activities that can be enjoyed like: golf, football, ice hockey, handball and ping-pong at elite level. The museums and galleries have exhibitions with both Swedish and international artists.

Best Halmstad Vacation Packages:
Need booking assistance?
We're glad to help:
Call Us 7 days a week
from 8AM to Midnight ET
1-800-430-0484