WHY MONTE CARLO?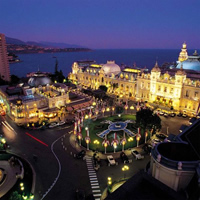 Gorgeous and glittering Monaco is the world`s second-smallest country (after the Vatican), but for what it lacks in size it makes up for in extravagance. It is perhaps the most glamorous tiny stretch of land on the planet renowned for the Monaco Grand Prix that takes place each year, an event worth watching. Monte Carlo is the wealthiest of Monaco`s 4 quarters on France`s Mediterranean coastline, exuding an air of extravagance, as seen in the luxe hotels, designer boutiques, luxury yachts, and lavish restaurants. It is home to an elegant belle-époque casino complex and ornate Salle Garnier opera house. The main attractions are the Oceanographic Museum and Aquarium, the Monaco Cathedral and the Prince`s Palace, as well as some magnificent gardens, and other attractions centered on the country`s famous Royal Family.

Best Monte Carlo Vacation Packages:

More details

More details

More details
Find Suggested Itineraries
Combine cities within Monaco

Feedback from our travelers
5 Reviews
Traveled on: 10/26/2021 12:00:00 AM
Traveled on: 8/29/2018 12:00:00 AM
Traveled on: 8/29/2018 12:00:00 AM

Need booking assistance?
We're glad to help:
Call Us 7 days a week
from 8AM to Midnight ET
1-800-430-0484