WHY MONTERIGGIONI?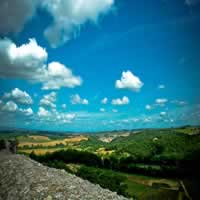 Situated at the northern end of the region, Monteriggione occupies the peak of a small, rolling hill covered with cultivated slopes, vineyards and olives. Monteriggione represents one of the most important walled castles in the territory, both exterior walls and the buildings within are some the best preserved in all of Italy, attracting tourists, architects, medieval historians and archaeologists. The intact fortified wall presents 14 towers and 2 gates. The town appears to float above the valley at night due to the hillside walls and towers being lit from below with light.

Best Monteriggioni Vacation Packages:
Need booking assistance?
We're glad to help:
Call Us 7 days a week
from 8AM to Midnight ET
1-800-430-0484