Map of Point of interest
WHY SKOURA?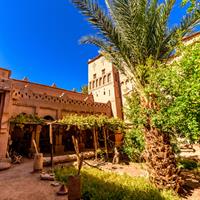 Skoura is a fertile oasis lined with immense palm groves that provide great views of the Atlas Mountains alongside deserted landscapes. It is renowned for the cultivation of roses. The palm groves were laid out in the 12th century by the Almohad sultan Yacoub el-Mansour and named after its original inhabitants, the Berbers of the Haskourene tribe. The most beautiful kasbahs in southern Morocco can be found here. Many of them are still partially inhabited. Pathways tunnel through the vegetation from one kasbah to another within this fertile island—a true oasis, perhaps the most intensely verdant in Morocco.

Best Skoura Vacation Packages:

More details
Need booking assistance?
We're glad to help:
Call Us 7 days a week
from 8AM to Midnight ET
1-800-430-0484