WHY TITISEE?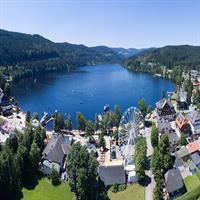 Located in the southern Black Forest, Titisee is a small lakeside resort especially designed for relaxation and refreshing the spirit and body. The lake owes its creation to the Feldberg glacier and is a legally protected nature reserve. In the wintertime, opening the iced lake to public use is possible but only if ice samples reach a thickness of at least 6 inches. In the summer, the local attraction is the mountain Hochfirst, 3,910 ft high with its lookout tower as the popular attraction for hikers.

Best Titisee Vacation Packages:
Need booking assistance?
We're glad to help:
Call Us 7 days a week
from 8AM to Midnight ET
1-800-430-0484